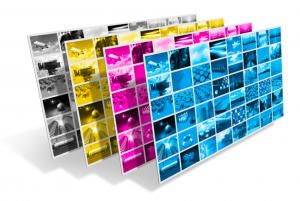 Our printing industry is full of terminology to explain the different techniques and types of printing. Whether you are a graphic design agency or starting out your own business we hope you find this a useful guide to help define the language of print. We've put together a mini jargon-busting article to help explain some of the most commonly used terms.
Print Colours Explained
Starting with colour, most of us think blue is blue and red is red. It's not quite as straight forward as that. Every industry tends to have it's own reference system for indentifying colours and printing is no exception. Printing uses a colour system know as Pantone colours or pantone match system (PMS).
There are two main processes of colour reproduction on a printing press. They are spot colour printing and 4 colour process printing. These both use the pantone reference system. The main difference is in how they reproduce colour.
4 Colour Process Printing
---
If you have colour photography in your printing you need to use the 4 colour process method of printing.
---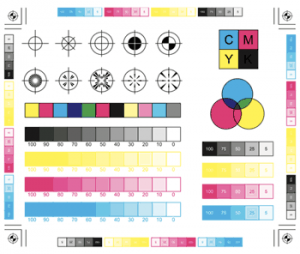 4 colour process printing uses pantone colours – Cyan (a bright blue), Magenta (pink), Yellow and Black know as CMYK for short. K stands for black and there are many explanations why. The general consensus is that it stands for "key". The are many other theories and a good article here if you are interested.
The term 4 colour process printing is also referred to as CMYK printing. CMYK colours combine to create the illusion of loads of other colours and this printing method is the most widely used printing press method.
Note: Some people also use the term "full colour printing" to refer to 4 colour printing, technically that isn't 100% correct but printers usually translate this to 4 colour process. Full colour printing is more accurately described as the combination of CMYK printing with the addition of spot colours. See Spot colour section for additional information.
Photographic Reproduction
(using 4 colour process – CMYK printing)
The multiple colours in a photograph are reproduced by using very fine coloured dots in different amounts to reproduce the range of colours in the photograph. If you were to look at a piece of 4 colour process print with a magnifying glass you'd see it's made up of lots of tiny dots. These dots will be one of the four colours, Cyan (C), Magenta (M), Yellow (Y) and Black (K).
Spot Colour Printing
---
Spot colour printing is useful where you need a high print quality finish but don't need colour photographs.
---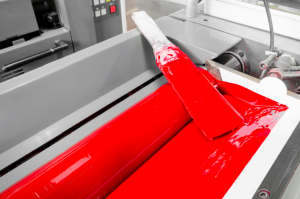 Spot colours tend to be used on corporate materials where brand colours are important e.g on items such as business cards and stationery when there are no photos required. Sometimes spot colours are used in conjunction with 4 colour (CMYK) process as a 'special' colour. 4 colour process uses 4 colours whereas spot colour can be a single colour print item, 2 colour, 3 colour and so on.
Reasons for using Spot Colour:
Spot color is cheaper than 4 colour process reproduction when less than 4 colours are used. Important Note: Also read "Digital Printing" below when considering your best option for saving money.
Certain colours reproduced out of CMYK colours are muddy in comparison to their spot colour equivalent. Orange is a prime example of this. It does not reproduce well out of the CMYK process (see fig.1). Spot colours are a more accurate reproduction than their 4 colour process CMYK best match.
When you're looking to achieve the exact same colour across a range of different types of paper/coatings etc a spot colour is a more reliable way of achieving this.
Litho(graphic) Printing and Offset Litho Printing
---
Litho Printing – best for print runs of 1,000 quantity and over. They have a better quality finish than digital.
---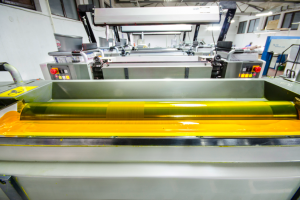 Litho print becomes more cost effective for larger print runs. As a general rule the unit cost of printing becomes cheaper than digital print when quantities are over 1,000 copies, subject to document size and extent of the job. Depending on budget some clients opt to pay the higher unit cost on lower runs when a high end product is more important than a cheaper cost.
In a nut shell Litho printing uses a series of metal plates on inside of the printing press. These have a transferred impression on them. When the ink is applied to the plate it only sticks to the parts of the plate where it is needed. Litho printing uses a wax resist method to attain this. This impression is then transferred onto the paper as it passes through the printing press. Offset litho is is the same principal though the plate doesn't actual touch the paper, instead the print is put onto a rubber cylinder which in turn passes it to the paper. Both forms of litho printing can be used for spot colour or 4 colour process work. Full colour Litho printing presses tend to have a series of 4-6 cylinders for the metal plates and ink reservoirs above them. Spot colour machines are usually much smaller and only have one or two cylinders on them but the principals are the same. The first 4 cylinders on a full colour press are for the CMYK inks. Remaining cylinders can be used for additional special colours, machine varnishes which help seal the inks or laminate.
Digital Printing
Digital printing is becoming ever more popular as the technologies available get better and better. As colour copiers became more sophisticated the digital printing press emerged. A digital press will use digital data and print straight from this. There's no need for plates or other tools and this means you can customise items far easier than with litho printing. Digital printing is also considered more cost effective for small print runs than litho, as the set up costs are lower. These advances in printing technology have mean't that business can now get 4 colour process print reproductions from single copies to a few hundred at a mere fraction of the previous litho cost. The quality of litho printing still remains superior, but digital printing is becoming increasingly more sophisticated and closing the gap.
Look out for our next edition of more printing terms explained where we put paper terminology and finishing under the spotlight…
Next time you've got a printing enquiry remember our jargon busting guide and you'll be able to blow people away with your inside knowledge of all the trade terms. If you've got a project you'd like to discuss then please get in touch with us today.
Please feel free to share out article or drop in a comment using the links below. Thanks for reading.
The Team at Interprint, Printers Norwich
Interprint, 280 Fifers Lane, Norwich, Norfolk, NR6 6EQ. UK