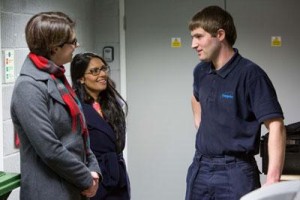 Employment minister Priti Patel and MP Chloe Smith visited Norse last week, and interviewed Interprint employee Lewis Wise about his journey from Project Search to employment. Lewis has been with us for 4 years, working as a finisher on many different print projects. He also has the responsibility of sorting post for all of the Norse group at the Fifers Lane office, as well as assisting with the HR department in their daily tasks.
We're glad to have Lewis here at Interprint and want to congratulate him on his journey to success, well done Lewis!
Lewis's interview will appear at about 1:25 into the video.
Click here to see the video