Printers Norwich Interprint have just installed a Web to Print Solution for customers and new customers alike to access and discover how this system can improve their experience of printing and purchasing products. Not only will this improve our customer's service it will also help streamline their time and our time through savings on systems in place to reduces tasks and processes. The system is designed to give customers a real time look at all work they have: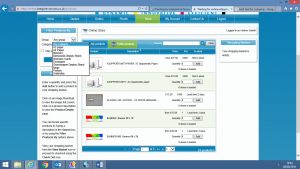 Ordering
About to order
Work on proof
Pricing
Pervious Prices
Spend
Invoices
Delivery Notes
The ability to order products on our store.
Looking Forward
All this will help us secure customers and keep them coming back to us time and time again. So far I am doing live demo's with customers and am now working through all my customers to see how this can help them and how. We are looking at doing a campaign email to show customers this product in the hope that they'll come back to us with interest and questions around this new product.
We also have a very short window before other printers latch onto this and roll out their own solution to Web To Print so speed is key to the success of this and capturing new work before others. This will also make us leading printers in Norwich for a short space of time.
Simply click the link below to see how the new solution can work for you.
http://online.interprint-services.co.uk/